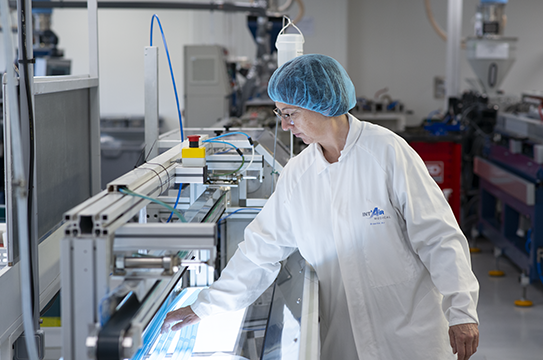 la société
FRENCH MANUFACTURER OF
MEDICAL DEVICES
Int'Air Medical is 145 women and men at your service and 37 years of experience in the manufacture of single-use medical devices in France. We are present in the fields of Anesthesia, Suction, Aerosol Therapy and Oxygen Therapy.
Discover our Activities
Manufacturing
ProSys International Ltd
London, United Kingdom
Distribution site
Emdamed B.V
Berkel en Rodenrijs, Netherlands
Manufacturing
PCU Protection Cover Ultrasound B.V.
Zelhem, Netherlands
Distribution site
P.J. Dahlhausen
Cologne, Germany
Manufacturing
Medinorm
Spiesen-Elversberg, Germany
Manufacturing
Int'Air Medical
Bourg-en-Bresse, France
Manufacturing
Dahlhausen Medizintechnik GmbH
Halberstadt, Germany
Distribution site
Medicavera
Szczecin, Poland
Manufacturing
BJD Medical Production
Kuřim, Czech Republic
Distribution site
Dahlhausen Medical Technology
Vienna, Austria
Distribution site
Dahlhausen Italy
Salerno, Italy
Distribution site
Dahlhausen South Africa
South Africa, Johannesburg
Strategy
Int'Air Medical, Member of
Dahlhausen Group
Since February 2018, Int'Air Medical has become part of the German company Dahlhausen created in 1854 and is now starting a new chapter in its history. The Dahlhausen Group, which specializes in the manufacturing and marketing of medical devices, has 635 employees at 12 sites in 9 countries.
Thanks to this merger, Int'Air Medical has been able to expand its product line and now offers ranges for the Operating Room, Gynecology and Urology.
For Int'Air Medical, being associated with the Dahlhausen Group also means being able to benefit from synergies in the regulatory, technical and logistical fields in order to be able to bring ever greater satisfaction to our customers.
CORPORATE MOVIE
Discover Int'Air Medical
in pictures
Take a few minutes to discover in pictures our experience and our know-how in the manufacturing of medical devices in France.
Watch our video